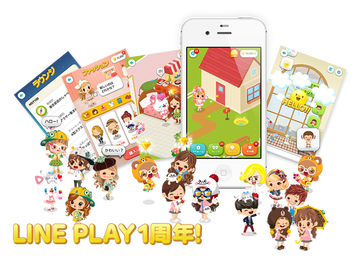 One year passed after LINE released their virtual world apps "
LINE Play
" and it broke through 13 million users. In addition, most popular virtual world in Japan
Ameba Pigg
has about 15 million users. Well, LINE Play caught Ameba Pigg at last.
According to the
press release
of LINE, 6,800,000 users are foreigners. This is very rare by the Japanese service, because Japanese fail in overseas advances well.
Why did LINE Play succeed? It may be supported by popularity of LINE of the messaging apps. However, LINE Play has a lot of charm as the virtual world. At first, a design is cute. Furthermore, users can create a virtual life unlike the real life through their avatars. in particular, The diary function of LINE Play was popular and was used 110 million times until now. Youths may get tired of real name, real friends and real life such as Facebook.
Furthermore, business tie-up with companies, brands and characters are brisk, too. Tie-up room and the avatar are important income sources of LINE Play like virtual currency sale. LINE Play users visited the tie-up rooms more than 500 million times until now. This is big advertisement effect!
If they get another 2 million users, they line up in Ameba Pigg. Possibly it during this year.